Innovative Office Systems
Complete Office Technology Integration

At Innovative Office Systems, we are ready to service any of your office equipment and document flow needs. Our team is dedicated to the mutual growth and prosperity of both your company and ours. We realize that our success is in your satisfaction. Our goal is to have your office running as efficiently and cost effectively as possible.
We are partnered with one of the major suppliers of technology in the industry — Kyocera. This partnering coupled with our in house expertise means we can bring you the latest in technology at an affordable price.
When Innovative Office Systems first opened its doors our mission was simple – treat both employees and customers with honesty, dignity and respect. At Innovative Office Systems our employees listen to our customers. They are empowered to make decisions that will ensure customers have what they need from us to boost productivity, and lower document imaging costs.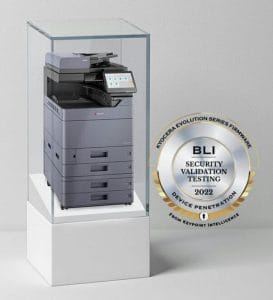 Kyocera Security is Keypoint Certified
With the volume and complexity of cybersecurity increasing by the day, data protection is now at top-of-mind for business leaders. In the face of this new wave of professional hackers, Kyocera has once again raised its fighting spirit, taking a proactive approach to ensuring its highest possible level data protection for its devices.
Kyocera was extremely proud to receive the prestigious Keypoint Intelligence Security Validation Testing certificate for its Evolution Series during its REIMAGINE dealer conference, which took place June 1-3, 2022 in San Antonio, Texas. The rigorous examination focused on both automated cyberattacks and white hat hacking and involved attempted Device Penetration of the firmware and underlying OS.

Innovative Office Systems services the entire line of Copystar products. The Copystar line of products is manufactured by Kyocera and is based on Kyocera's award winning technology.
Kyocera's Tiered Color System and Tiered Color Monitor
BRING AFFORDABLE
C
O
L
O
R
PRINTING TO YOUR OFFICE
Click Here to Learn More